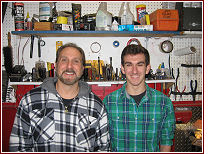 Mike Arthur's curiosity has served him well. Ever since he was old enough to handle a screwdriver, Mike's been taking things apart to see what makes them tick. The family vacuum cleaner, radio, clothes dryer and the like all fell victim to his peek behind the curtain. With parents engaged in the retail trade of audio and video gear, he was actually installing CB radios in cars and trucks when he was 11 or 12 years old. He started working the retail floor at the age of 14, answering technical questions and finding solutions for technophobes and technophiles alike. He's the consummate tinkerer turned pro, and he continues to make his mark as one of the most innovative sound technicians in the nation.
His parents founded Tri County Audio more than 53 years ago on St Joseph Avenue in downtown Stevensville. They thrived there for several decades as a leader in audio and video for homes, cars, boats and beyond. In 1982, the Arthur family acquired a home at 2608 Niles Avenue in Southtown St Joseph. It was in a block of homes that were all being converted to commercial use, and they immediately put their new space to good use.
It's been almost 40 years since Mike joined his parents in the business. It boggles the mind to realize the talent base it requires to do the things that Tri County Audio is routinely called on to do. Mike readily admits,"We sell absolutely NOTHING that you need!" But he quickly adds, "But, boy is it fun! I love what I do. It's like Christmas every single day. Sure, it's not my car (that I'm working on) ...but it's great fun, and really cool!". He and his crew have done everything from replacing factory radios to replacing entire interiors replete with massive sound systems, remote engine starters, dual 20-inch video displays for DVD and game playing and much, much more.
The job has turned Mike and his expert installers into designers, fabricators, wood and metal workers, upholsterers, automotive painters, electricians, fiberglass artists, computer technicians, and audio/visual experts, to name a few.
Mike Arthur was born with the gift of a vivid imagination and has clearly learned his craft well. From his mother...his father...his wife and friends...and from his customers.
--Taken from an article in "Front and Center" by Pat Moody